GARDEN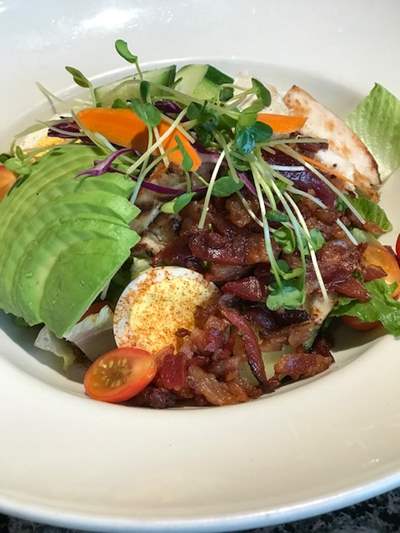 Fresh garden salads
HOUSE SALAD
Greens, tomato, cucumber, red onion, red radish, croutons, house vinaigrette
BLT WEDGE SALAD
Iceberg lettuce, tomatoes, bacon, hard boiled egg, blue cheese crumbles, ranch dressing.
CAESAR
Romaine, croutons, Parmesan cheese.
BURATTA CAPRESE
Tomatoes, basil, olive oil with balsamic glaze
QUINOA SALAD
Romaine, arugula, quinoa, cherry tomatoes, pecan, cucumber, avocado, beets, Feta cheese, house vinaigrette.
CRUSTED AHI SALAD
Wasabi seed crusted ahi, greens, tomato, cucumbers, avocado, lemon, capers, honey soy ginger vinaigrette.
ALBACORE TUNA SALAD
Mixed baby greens, Albacore tuna, egg, cherry tomatoes, cucumbers, carrots, red cabbage with lemon wedges
ASIAN CHICKEN
Rice noodles, lettuce, green onions, wontons, red cabbage, mandarin oranges, sesame seeds, Pan Asian vinaigrette.
CHICKEN COBB
Mixed baby greens, grilled marinated chicken breast, avocado, egg, honey smoked bacon, tomato, cucumbers, blue cheese
SALAD ADDS
6 oz. Chicken breast.............6 7 oz. Grilled salmon ............11