LARGE PLATES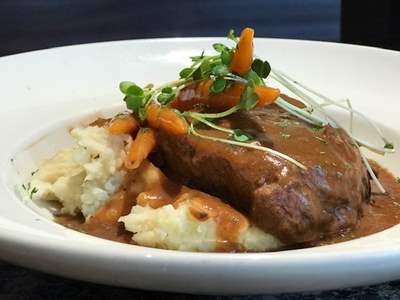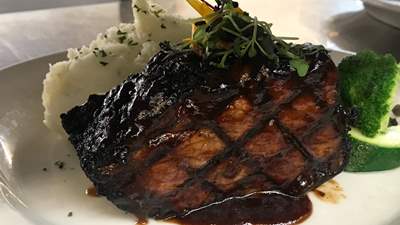 DINNER
RIB EYE STEAK
12 oz. USDA choice steak, vegetables, shoestring fries
FRIED CHICKEN
Half of chicken, coleslaw, mashed potato, gravy, biscuit. (Please allow 20 minutes for preparation)
CABERNET BRAISED SHORT RIB
Tender, braised short rib, mashed potatoes, pan jus, baby carrots.
HERB CRUSTED SALMON
Sautéed spinach, rosemary potato, lemon cream sauce.
CHICKEN MADEIRA
Sautéed chicken breast, topped with melted mozzarella cheese, mushroom madeira sauce, mashed potatoes, seasonal vegetables
SALISBURY STEAK
12 oz. seasoned ground beef, garlic, onions, mushroom gravy, mashed potatoes, fresh vegetables.
FISH AND CHIPS
Beer battered cod fillets, tartar sauce, shoestring fries, coleslaw.
CHICKEN PICCATA
Sautéed chicken breast, mushrooms, capers, cream wine sauce, vegetables, mashed potatoes.
SIDES
Sweet Potato Fries - 6 French Fries - 5 Mashed Potatoes - 6 Fresh Broccoli - 7 Sautéed Mushrooms - 6 Sautéed Vegetables - 8 Onion Rings - 9